DIY: valentines for friends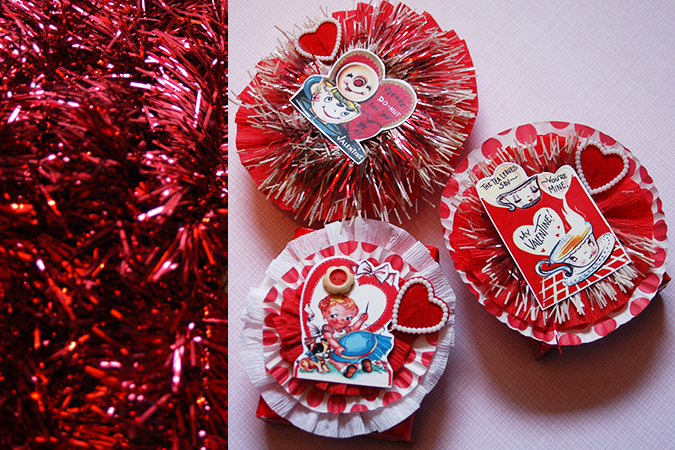 I thought it would be fun this year to give some of my lady friends some special little boxes of chocolate for Valentines day. Of course I had to dress them up a bit, and I thought I'd share the real easy DIY with you in case you'd like to make some for co-workers, friends, or anyone you'd like to give a little something more then a card to on Valentine's Day.
Supplies:
–
Russell Stover 2oz
I purchased a bunch of these little 2oz boxes of chocolate, these are the kind with just 4 pieces inside. Mine arrived in red boxes for Valentines. If you are really ambitious you could make your own chocolates and find little boxes to put them in.
-cardboard circles for the bases: I free hand cut mine from cereal boxes. These do not need to be perfect because your going to cover them up, you just want them to be about the size of your boxes.
-glue: I used a hot glue gun
-decorations: flattened cupcake wrappers, crepe paper streamer (I ruffled some of mine using a ruffler foot on my sewing machine, but you can also gather and glue down by hand) garland (I found red, and red and white garland after xmas on clearance and in thrift shops)
-vintage valentine cut out: I've made two pages
page one
and
page two
I had mine printed on card stock.
All you need to do for assembly is build up layers on your cardboard circle with glue. I changed each one around a bit sometimes using the garland first, some times a cupcake wrapper. Then I added a few little items to some like buttons, or little heart cupcake picks. Then just write a little note on the bottom of the box of chocolate and you are ready to give them out!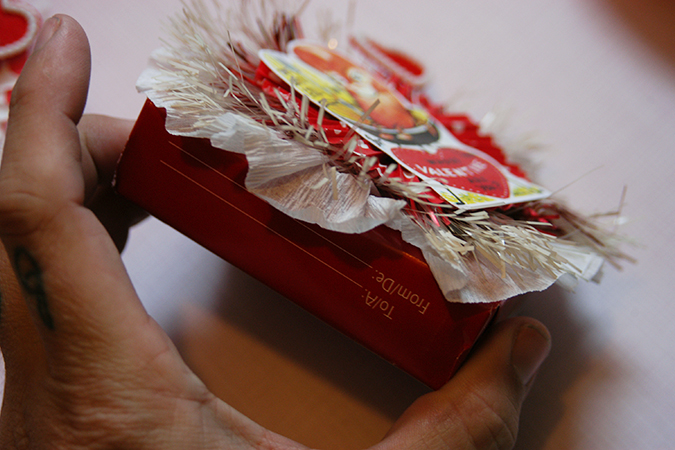 **Personal use means non-commercial use of the valentines including copies and print outs for yourself, your personal crafts/scrapbooking and to give to friends. The valentines may not be used in any way whatsoever in which you charge money, collect fees, or receive any form of remuneration. The valentines may not be used in advertising, and they may not be resold.***
---