Animal Crossing Birthday Invites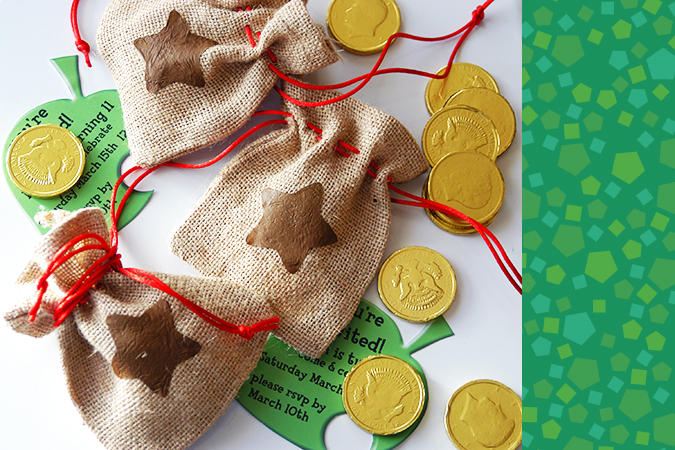 March is approaching and that means it's almost time to celebrate B's 11th birthday! He got a 3DS and
Animal Crossing New Leaf
for Christmas (which has been so much fun because now we can play together!) One night recently he said "I think I want to have an Animal Crossing themed party, we could design outfits and print out the little QR codes to include in the goodie bags" Yep, super exciting! So we have been having lots of fun planning out all the details.
For the invites we decided on bell bags. These are the little sacks of money you have in the game, we included some chocolate coins (bells) and then the invite which is printed on a leaf (card stock) also from the game. I even found an Animal Crossing font to use for all the info.
If you'd like to make your own, I have some easy instructions below!
You'll need:
–
Invite & Star Pdf
-Jute or Burlap Bags, I got mine at Hobby Lobby $3.99 for a 3-pack. You can purchase larger quantities online like
4×6 pack of 50
if you plan on having a big party!
–
red cord
–
inkjet printable iron on transfers
for the stars
-needle with a large eye for threading the string through bags
–
Chocolate Gold Coins
First cut the existing string off of the bag, and remove. Bell bags in animal crossing have red string. Next follow the instructions on your iron on transfers to print your stars. Cut out and position on the bag and iron in place. Since the bags are woven I found it helped after ironing while the transfer was still warm (not hot) to gently press into the bag with my finger. You might want to wear a glove or use a potholder to help press down.
Now thread your needle with a length of string about 8-10 inches long. Weave the needle in and out going around the entire bag and bringing both ends out on the same side. Tie these in a knot. Now do the same thing with another length of string only make sure the ends come out on the opposite side. This way when you pull both string knots the bag will close smoothly.
Print out your invites, tuck them into the bags with a few chocolate bells and your ready to mail them out! We will be shipping ours out in small padded envelopes this weekend.
**the amazon links on this blog entry are amazon affiliate links and I will earn a small percentage of amazon credit if you make a purchase using them :) My book shelf thanks you!
---