DIY vintage style sprinkle favors
I had the idea to make my own signature sprinkle mix ever since I saw the
Amy Sedaris sprinkle mix
around Christmas time. Of course I knew I would want to hand out my sprinkles in true vintage style, so I came up with a label that works with these retro sprinkle bottles. The little girl is from an actual vintage sprinkle label, and I think works perfectly with these jars. Besides being a great party favor (our next crafternoon we are making faux cakes and I felt like this would be the perfect party favor) I think they would be so fun as a party activity! Put out a bunch of different kinds of sprinkles, give everyone a bowl for mixing and a jar to fill, each person can create their own signature sprinkle mix to take home.
Lets start with supplies..
-I got the adorable vintage style jars
here at Layer Cake Shop
. They come with either white or pink lids and are only $1 a jar, or you can get a dozen for $8.
-I purchased a lot of my special sprinkles there as well, like the
tiny stars
,
sugar pearls
, and
chunky sugar
. Don't limit yourself to items made just for decorating cookies and cake, there are loads of tiny different kinds of candy that would work too.
–
Labels
-You can print a sheet of labels that read "fancy decor" or blank labels so you can add your own info. Maybe something like "Katie's Birthday Mix" or leave them blank if you're doing it as a party activity and your guests can have fun coming up with names for their mixes.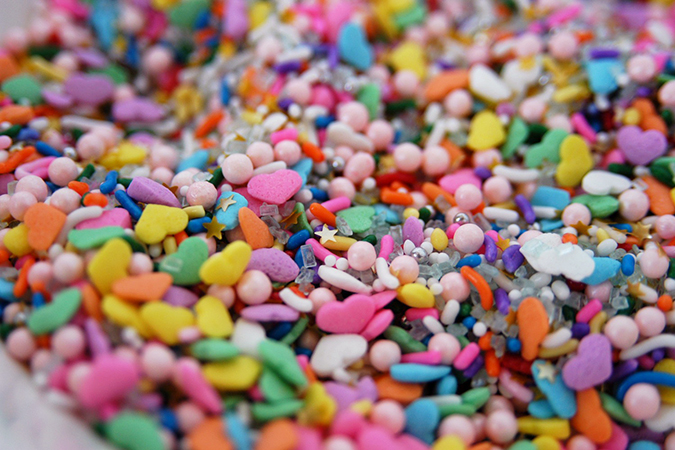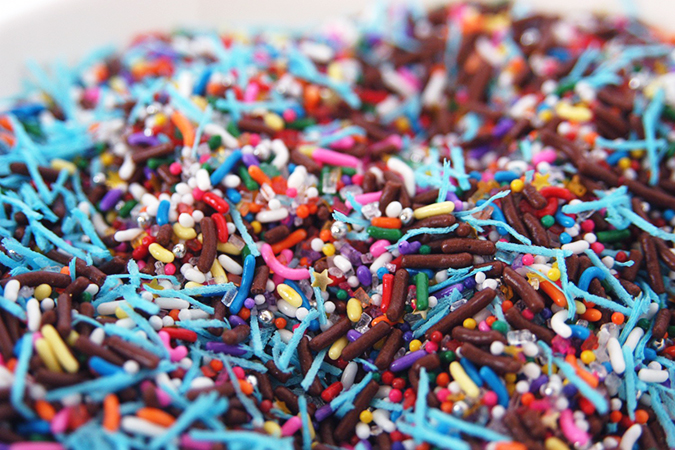 I created two mixes for my jars. I would suggest starting off by mixing a very small amount of your sprinkles to make sure you like the overall look of them mixed together. I simply mixed mine around in a bowl and then used a small funnel to add them to the jars.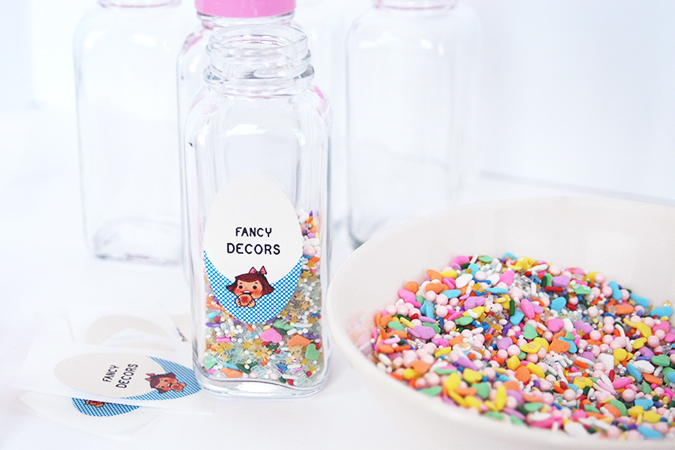 I had my labels printed at Staples on their laser printer, and then cut them out and ran them through my
Xyron sticker maker
. You could print yours on sticker paper, or attach them to the bottle with a bit of glue.
I would love to see your jars if you decide to make some!
**The labels are for personal use only. Personal use means non-commercial use of the labels including copies and print outs for yourself, your personal crafts/scrapbooking and to give to friends. The labels may not be used in any way whatsoever in which you charge money, collect fees, or receive any form of remuneration.***
---