How To Tuesday – Skeleton Shoes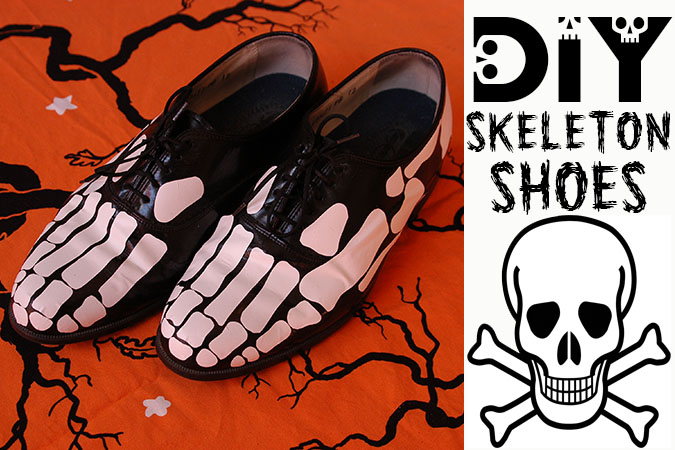 I had seen a pair of skeleton costume shoes online, and thought they were really cool. However they were mens and came in size medium or large. For me, those kind of shoe sizes just don't cut it. It's a problem I've seen with a lot of costume shoes, they don't come in traditional shoe sizes. Anyhow when I spotted a pair of cheap black shoes in my size at the thrift shop, I thought I'd just make myself a pair.
Here are a few things to keep in mind…#1 these shoes are clearly not medically accurate, but I didn't want to stress over getting bone structure correct. Instead I just wanted something easy enough that would still clearly be skeleton feet. #2 I made this project using white contact paper that I already had on hand. This would not be permanent and if you want this to last through many wears you'll need to seal the shoes when you are finished. and #3 the template I made is going to just be a guide because all shoe sizes (and shape of shoes) are going to be different, but I think it will work as a guide!
-Print out the
bone guide here
(or you can free hand cut your own by looking at the photos or you can scale the page % if you need it to be smaller/larger)
-Cut out the bones, I recommend cutting them out one by one and then tracing them onto your contact paper and peeling/sticking them to the shoe as you go)
-Seal shoes is desired. I haven't sealed mine and have already worn them twice with out any trouble, but remember that shoes will vary depending on the materials.
---