Father's Day Wrapping Paper DIY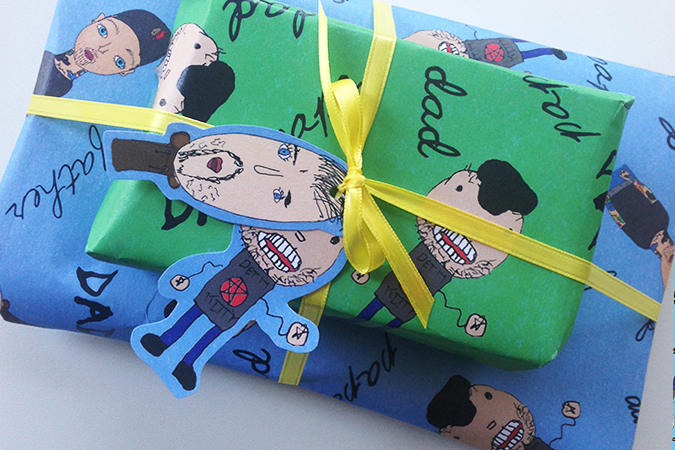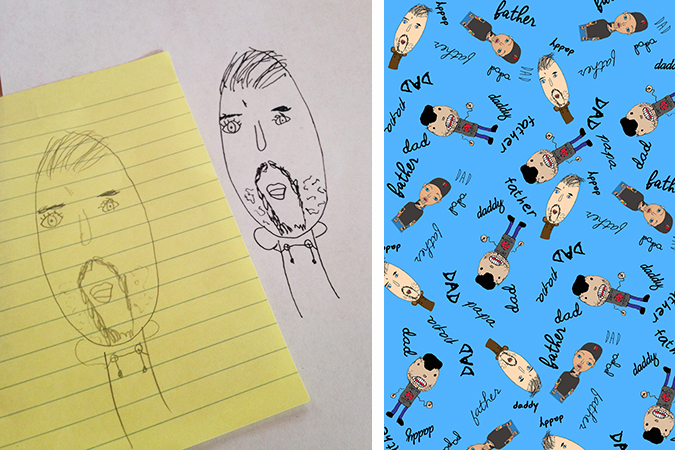 Although Father's Day has come and gone I thought I'd share the wrapping paper the boys and I made for Tom. While you can of course create
your own roll of amazing wrapping paper from Spoonflower
, some times you just need a small sheet or two and you'd like to have it right away.
On school mornings when we had extra time B and I would make silly little drawings on post-it notes, and I try to save them all. One morning I drew a silly drawing of Tom and then B did one too. His has Tom wearing his brown sweatshirt pull over with the little hood drawstrings. I was looking at the drawings again before Father's Day and thought they would be great turned into wrapping paper. I asked Kurt to draw his own version of Tom and then I used a light box to trace the post-it note drawings (so they wouldn't have the striped lines and yellow paper) After scanning them in and coloring them in photoshop I added some common words for Dad, and then sent it over to Staples. I had them print it on their 11×14 paper and it was about $1 a sheet. If you don't have a program like photoshop you could use a light box or window to trace the drawings all over a large piece of paper. Then color them or have the kids color them in. Then you could save the original and have color copies made for the paper.
It's a fun way to customize wrapping paper & have your kid's draw photos of the people the gift is for. It would be kind of fun to do it every year to see how the kid's drawings change.
We cut out some the extra paper to make little gift tags for the top, but you could also use some on a card, or cut them out and save them in your scrapbook.
---