Holiday How-to : Cuter Candles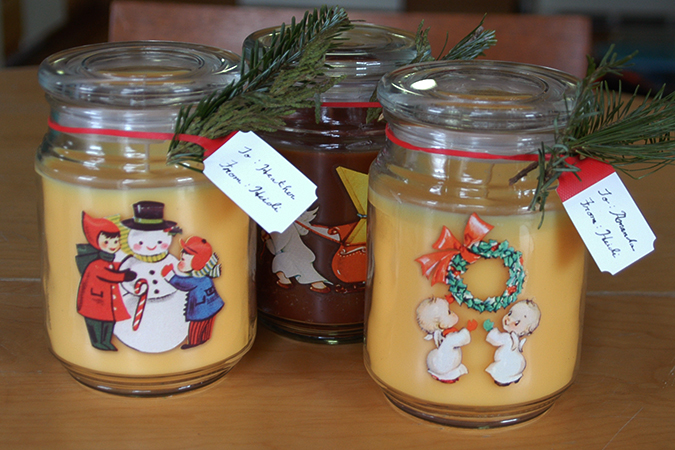 Hi friends! November has been a blur of activities and get-togethers so I wanted to stop in today with a super easy "how-to". These candles make great hostess gifts, or they are just a fun way to dress up some candles you have around the house for the holidays. Recently I saw that jar candles were on sale at AC Moore 4 for $10. Personally I think some of their candles smell pretty great, they just don't look very pretty. Here is a super simple way to fix that.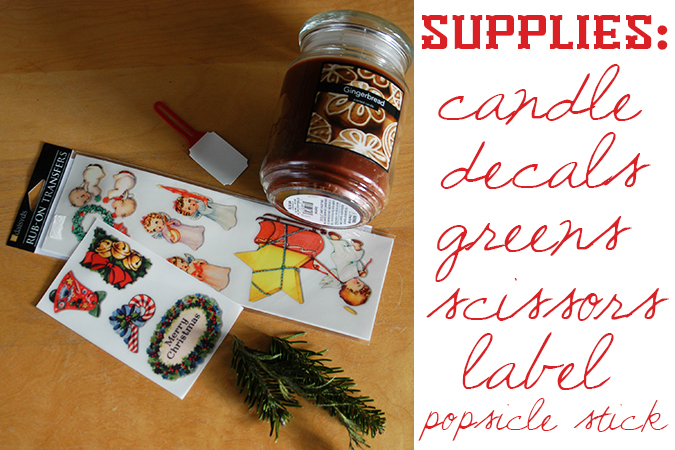 Here's what you need:
Candle
– look for those inexpensive jar candles that have easily peel-able labels. I know some candles even say on the label "easy peel"
Decals
– also called "rub on transfers" I really like this
holiday booklet
of decals as it comes with a lot that are not Christmas specific. I especially like the houses. You can also find rub on decals at most craft stores like AC Moore, Michaels, etc. I actually found my set at a thrift shop last year and am glad to finally put them to use.
Greens
– these are of course optional, but I think add a little something nice. Clip a few from your Christmas tree, clip a little while on a walk in the woods, etc.
Scissors
Labels
-I am currently in love with these
stretchy label tags
from the new Martha Stewart for Staples line. I think they work well for gifts that you probably wont wrap like jars, flower pots etc. But you can always tie a string with a paper label around your candle instead. You could also use the label to write what scent the candle is.
Popsicle stick
-these normally come with the rub on transfers, and you just need a blunt object like the stick for rubbing your decal.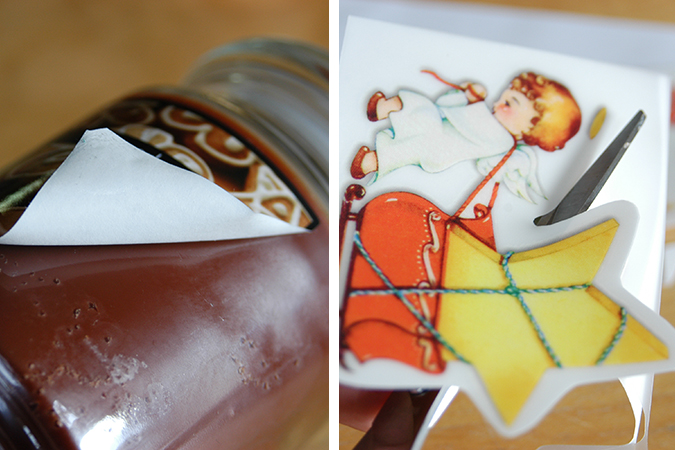 1. Peel off your label. If you have any trouble with sticking paper or glue you can use a product like Goo Be Gone to clean it up. Make sure the glass is clean and dry.
2. Cut out your decal.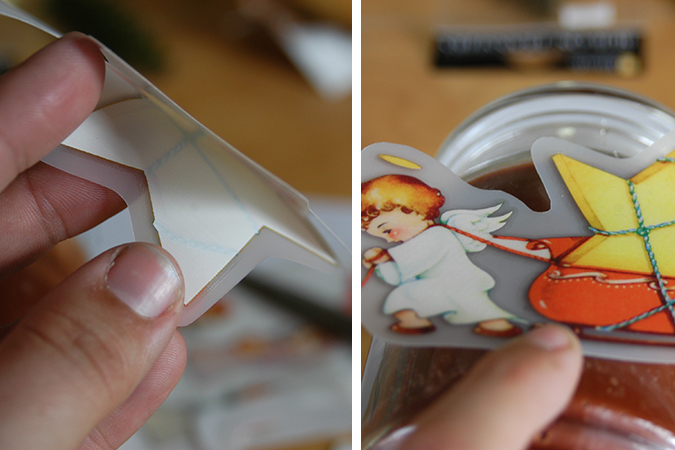 3. Your decal will have a plastic sheet on the top and a paper backing. Gently pull off the paper backing.
4. Lay your decal down on the candle with the plastic sheet side up. And smooth the decal out. It will stick to the candle.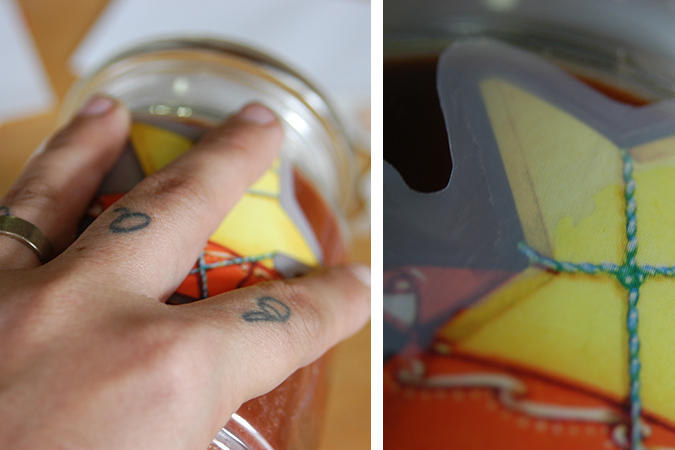 5. Once your decal is smoothed down you can begin to rub it with the popsicle stick. You will be able to see which areas have been rubbed as they will come away from the plastic sheet. Do not pull the plastic sheet away or you can tear your decal. Keep rubbing the entire thing until the plastic sheet naturally falls away. Now your decal is adhered.
I burned a sample candle for a few hours and did not notice any change in the decal. Besides candles you can also use decals on plain jars and fill them with candy, plain colored tins and fill them with Christmas cookies or baked goods. I think they add a nice festive touch and are super quick to make. Hope you enjoy!
---